Resources for Bigs
82% of our littles report having what they thought was possible changed because of their bigs.
Two for One Program
2-for-1 Program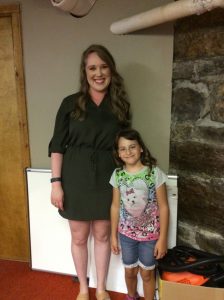 The 2-for-1 Program is designed to allow Bigs and Littles the opportunity to participate in a variety of activities throughout the Helena area community.
To take advantage of these opportunities, the Big and Little must both present their 2-for-1 cards at the time of participation.
Sponsor List
Currently being updated! Call Marci at 406-442-7479 with questions.
Capital City Health Club: If the Big is a member, the Little can get in free with the Big
Exploration Works: If the Big pays full price, the Little gets in free with the Big
The Frozen Moose: 15% off the entire purchase
The Painted Pot: 15% off for the Match
Sleeping Giant Lanes: If the Big pays for the game(s) and shoes, the Little's game(s) and shoes are free
Capital Sports & Western: 20% off a rod and reel combo, 10% off all other fishing items, 10% off sale clothing, 20% off regular priced clothing, 10% off all camping supplies, and 10% off all hunting supplies. Discounts apply to all merchandise purchased by the Big for your Little. 
Game Pods: 50% off per hour ($5 rather than $10 an hour)

Stonetree Climbing Center: When the Big pays to climb, the Little gets to Climb for free.  A waiver must be signed by the parents beforehand.
Broadwater Hot Springs: When the Big pays the entrance fee, the Little gets in for only $1.